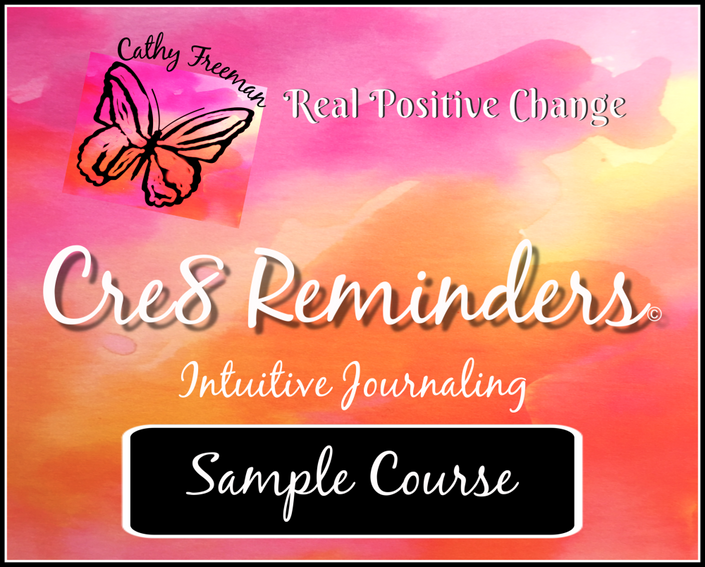 Sample Course for Cre8 Reminders©
How-to's that Change Stress, Cultivate Happiness & Feel Great!
* Would you like a self-charging process to Power Up mentally and put a halt to anxious thinking that keeps you feeling worried and stressed?

* Are you ready to find REAL Relief by crafting personal affirmations that fit the situation and address what you are experiencing right now?
* Can I teach you how to CHANGE your subconscious thoughts and begin focusing on creating POSITIVE statements to Stop Stress, Cultivate Happiness & Feel GREAT?
If you say YES, and you are a person who is motivated to take care of your health, develop lasting relationships, and want to generally feel happy in your life, then you will benefit from learning about Cre8 Reminders©.
Cre8 Reminders© is a simple step-by-step process that can instantly change the way you think and feel about any circumstance you may be facing.
James Allen once said, "A person is limited only by the thoughts that he chooses."
WHY A SAMPLE COURSE?
A SAMPLE COURSE GIVES YOU A CHANGE TO TRY OUT THE PROCESS AND SEE IF THE COURSE IS A FIT FOR YOU WITHOUT SPENDING ALOT OF MONEY.
YOU WILL HAVE PLENTY OF INFORMATION to give the process a try and START MAKING CHANGES.

WHAT DO I GET? (See Course Outline below)
THIS SAMPLE COURSE INCLUDES:
VIDEO INSTRUCTION OF HOW TO CRAFT YOUR OWN CRE8 REMINDER©.

ACTUAL MATERIAL FROM THE WORD LIST COURSE (3 Sections of word groupings)
QUESTION I AM ASKED OFTEN: Where does the CRE8 REMINDERS FIT INTO MY already successful process of...Fast, Study, Pray, Serve?
MY ANSWER: I believe in the saying, "Prepare all needful things..." I believe that I must PREPARE MY MIND so that I have the DESIRE....or even the energy to take action on anything else.
If I am feeling overwhelmed, anxious, hopeless, frustrated....well you get the picture. I will not have the mental energy to take action on anything that will bring the relief that I so desperately need. I can go about the day doing all the right actions, but lacking in motivation and feeling unhappy.
I believe that we need to make a strategy of affirmations that can become GOOD DISTRACTIONS when life fills with challenges. Thoughts that will fuel the mind in a positive way, rather than falling back on forms of distractions that can eventually bring more harm than good. For example, stress eating, excessive choosing of video games. social media, etc. And of course the destructive distraction that is rapidly taking over...pornography.
Even activities that are healthy and good for us, but become such a strong focus that they become overly extreme, will take the body out of balance and throw it into a state of imbalance.
So, I believe that PREPARING THE MIND is the FIRST STEP.
With a prepared mind you gain a spiritual hope, which in turn feeds the feelings of being capable and willing to take positive action.
Your results begin to change and progress is made!
Try out the Cre8 Reminders© process for less than the cost of eating out. A small price with a huge return. Never again feel out of control, or ineffective to change your Life!
See what is included in the course below.
Then Click the ENROLL button & Let's Get Started!
The Cre8 Reminders© Word List is under copyright law, even in this sample course. It is not to be copied, or transmitted in any form.
Videos & Lessons
Let's Talk about Why Each Thought Is SO IMPORTANT
Available in days
days after you enroll
Cre8 Reminders© Learn the Process
Available in days
days after you enroll
Cre8 Reminders Word List
Available in days
days after you enroll
Frequently Asked Questions
When does the course start and finish?
The course starts the moment you enroll. It is completely self-paced. You will have access to it 24/7.
How long do I have access to the course?
You will have unlimited access to the information of this course for as long as the course stays on the web. This course is for your own personal use and may not be commercialized in any way.
Your Instructor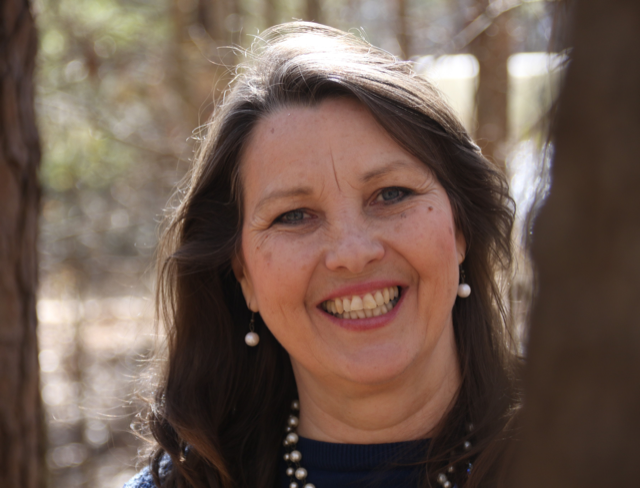 All my life I have always LOVED art. I graduated with a Bachelors in Fine Arts from the University of North Texas.
There is something magical in the power of expression, whether that be through word, visual arts, or music. It is a power that crosses over barriers and mental blocks that shut down our ability to think rationally.
After starting a family, I became interested in the field of Positive Psychology, which lead me to another area of study and then to a coaching practice for the past 18 years.
During that time I began to see a great need for more creativity, in all it's forms, to balance out the extensive, and sometimes over used left side of the brain.
It is in this side of the mind that our inner critic resides...sending out messages that can keep us from progressing and feeling positive.
Only those who develop a routine of daily silencing their inner critic begin to feel a freedom emerge like the sun coming out from behind a cloud. it is a feeling of liberation to go forward and to take chances that will help to achieve their dreams and goals. It is the motivation to move forward fearlessly from your heart.
More importantly, taking a moment to be creative allows one to rest. Rest is the time in which the body can restore the energy that our nerves have expended. Being under excessive stress can build up cellular waste faster than our body can eliminate it and deplete one's energy faster than the body can restore it. To stay healthy in our "growing younger years", we have to give ourselves permission and time to rest and use our gift of expression. This is why I take the time to create these courses.
Read my full story: https://realpositivechange.com/about/